So I was sitting at my
temp
desk at work today and suddenly heard a scratching sounding in the ceiling. The person I'm working with didn't ease my tension much by telling me it was mice! Eeek! @ ______ @!!
Anyway I got my Lancome foundation today…sort of. The BLASTED UPS guy left a delivery attempt notice rather than the package. #$%&@!!! Heck no I'm not going to the post office to pick it up, so he'll just have to deliver it again tomorrow.
W/E
Also, I've been experimenting with Pin Curls a lot lately.
The easiest and least time consuming version has been this single side swirl.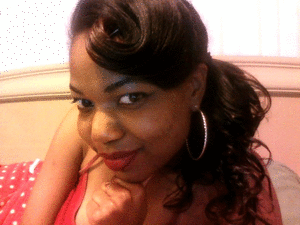 I wore this GLAM up-do to work the other day and got all kind of compliments ranging from Gorge-wah! Cute-iful, and "…she looks like one of those magazine glam girls from…that era."
A guy comment of course
Um, Old Hollywood? Vintage? Whatever dude I'll take it.