Hello my lovey-doveies!
Its Sunday evening, and you know what that means. Another snorseville week of work in the A.M. -___-
Don't get me wrong, I blessed and thankful to have an 8 to 5, but there are times when I day-dream about being my own boss and having a bread-winner career in something grand like fashion, design, owning a business, all the above and everything in-between.
Honestly that has been the best part about this blog for me, being able to look back and see growth. And things that I have talked and/or dreamed about become a reality. :-)
Anyway I'm babbling on; Remember when I mentioned I was ordering a Nautical theme'd Pinup dress in this post. Well I got it in the mail about a week ago!
Now who makes this dress. I really couldn't tell you. I repeated verbatim in the above mentioned post what the link on Amazon.com quoted but when I received it there was a tag from 'Glam Couture' sewn within and attached inside. So they're the designers I suppose...or a sub-brand of ClosetOnline?? Yeah, I'm not really too sure.
As far as the dress itself goes I really have no complaints its sewn beautifully and even turned out to be waaay more vibrant in color than that crappy picture on Amazon.com depicted.
It even has this gorgeous anchor and outlining rope detail on every button which is an extra added bonus!
The only thing that threw me off about this dress was the fabric. Guess from the pictures I was assuming it be some sort of rayon or polyester blend like the pencil skirts I ordered from Amazon. But its actually cotton. I didn't exactly check to see what material the description had listed. It was sort of just a visual assumption; even these pictures make the dress look like rayon/polyester.
Absolutely only flaw. And I only see the fabric as a flaw because it seems like the type of cotton that quickly picks up lint. :-(
In other news; I'm still slowly but surely giving my Allegra K durability reviews. This next shirt really doesn't tie into the whole durability thing, because to be honest in the 6 or 7 months that I have owned it; I've never once worn it!
I just didn't know how to pair an appropriate undergarment underneath it. Tank tops just didn't look right and my corsets and waist-cinchers just looked a bit too hussy-ish. One of those classy or trashy dilemmas.
I kinda sorta solved this issue by layering a delicate sweater over it. One day I'll pair it up just right and wear it somewhere.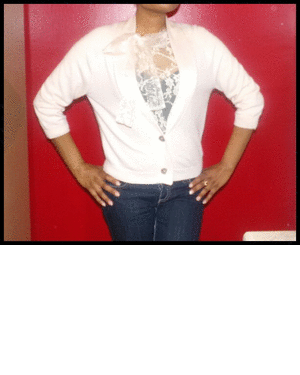 Before I close. I wanted to leave you with these adorable pic of my little angel Louie V. He's become such a sweet bird in the last few months; completely hand trained, always singing, trying to feed me, and he loves kisses on the head. Parakeets or Budgies are such hams once they fully adjust to you. This is actually my first time only having one as apposed to two, three or four. Which is great because, I've bonded with him so much more than I did my groups of budgies in the past.
Sayonara!
Love Always,
Li.Ree